In keeping with our unintentional theme of one dish meals the last two nights, we opted to make a rice dish last night. We already had chicken and pork so we were on to beef or shrimp.  I love coconut rice and pineapple so we did a shrimp fried rice with pineapple.  It was super simple and filled with lots of flavor!  
Ingredients:
2 cups cooked Jasmine rice (cooled)
1 tbsp oil (I prefer to cook with olive)
1 clove minced garlic (we actually used 4)
1/2 cup chopped onion
Cooked shrimp, peeled and deveined (we used large shrimp w/tails – 6 each)
1/2 tsp sugar
1 tbsp fish sauce
4 oz (or about 5 rings) of canned pineapple, chopped
2 green onions, chopped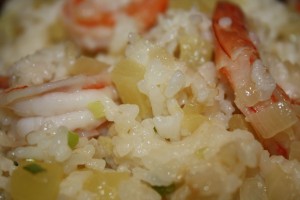 Directions:
Have the Jasmine rice already prepared so it can cool and is easier to break apart.  I made coconut Jasmine rice for this (basically substituted coconut milk for part of the water when cooking it). 
Using a wok, heat the oil and add the minced garlic and chopped white onion. Cook until the onion has a shiny appearance – about 1-2 minutes. 
Add the cooked shrimp, rice, sugar, fish sauce and stir well.  After about 30 seconds, add the pineapple and green onion and continue stirring often for 2-3 minutes.  You want to make sure the rice is tender and the shrimp is thoroughly heated. 
Remove from heat and serve on big plates while still hot. 
Serves 2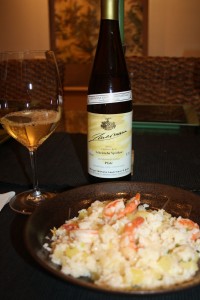 Wine Pairing:   2
2003 Spätlese
Spätlese is basically a light late harvest wine so it is pretty sweet, but was a good match for this dish.