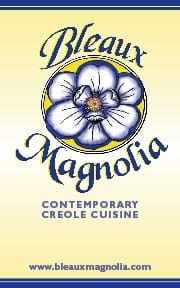 Bleaux Magnolia is located in downtown Napa, about 2 blocks walking distance from the Beazley House B&B.  Back in January, Brett had come out to visit me and we stayed at the Beazley House for a couple nights, which is an absolutely fantastic place if you want to stay at a B&B!  It came highly recommended and we decided to check it out since we could walk and poor Brett was pretty jet lagged after his flight from Amsterdam, so we didn't want to eat too late.
Bleaux Magnolia specializes in contemporary Creole. Their website notes that many people except to be brought back to New Orleans but as they remind everyone, this is California!

Chef Mermod, co-owner, is actually a self taught chef. He's spent a lot of time working in restaurants in California and also in Louisiana, learning the cuisine there.
General Manager Schuster, is a Louisiana native who has a long history in the restaurant business, including managing some premier restaurants in San Francisco.
The restaurant is small and reservations are definitely recommended. There is a cute outdoor patio area which would be nice during the summer. They offer various specials and 3 & 5 course dinners. Tuesday nights are $1 BBQ Oysters and Wednesday night is movie night – they show a free movie on their patio area.
They have received a number of accolades being a relatively new restaurant. They were voted Best New Restaurant in 2008 and one of the whole Napa Valley's top 10. One of the best things about them is they don't charge a corkage fee which is rare. We didn't know that beforehand, otherwise we would've brought one of our own bottles with us!
The night we were there they had their version of Oysters Rockfeller which were $3.50 each. We decided to try a couple each and OMG, they were incredible. I wish I could remember everything in them but I know one of the ingredients was marscapone cheese.
 I ordered the Gumbo and Brett had the Jambalaya with the Duck Confit. Both were excellent but I agree with Brett, if we went back and they were serving the oysters, we'd each probably order 10 each and just eat those! LOL. They were incredible and I have been craving them for months now. 
Bleaux Magnolia
1408 Clay St.
Napa, CA      
Across from Clay St. Parking Garage & behind West America Bank.
Business hours: 
Mon-Sat:  Lunch 11:30am – 2:30pm   Dinner  5pm – 9pm
Sunday:  Brunch 11am – 2:30pm    Dinner 5pm – 8pm
www.bleauxmagnolia.com