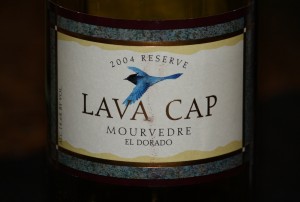 Lava Cap in Placerville, CA produces some great wines (winery review to follow!) and one of the bottles that made it to Taiwan with us is their Mourvedre Reserve.  Mourvedre is a Rhone varietal that tends to be a pretty tannic wine on its own.  Besides the southern Rhone Valley, it is common along the Mediterranean, sometimes known as Monastrell or Mataro.  It is most often a blending wine and Lava Cap's Mourvedre Reserve is 12% Cabernet Sauvignon, 6% Zinfandel, and 2% Barbera.   Lava Cap notes their Mourvedre has a spicy nose of black pepper, anise, cherry, and clove framed by a sweet oak.   The taste is smooth and rich, but not too tannic.
Lava Cap produced only 9 barrels of this wine and it's probably one of my favorite wines from them.  For those who are not familiar with the vineyard, it's a small, boutique type winery, located in the foothills near Sacramento.
For pairing Mourvedre, it is best with roasts, stews, and more hearty dishes.  We paired it with a roast pork in red wine (used the Mourvedre) sauce with a potato stew.